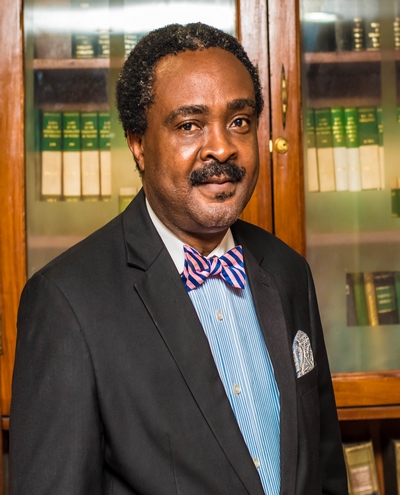 Prof Bankole Sodipo SAN
Senior Partner
Prof Bankole Sodipo is the Senior Partner at G.O. Sodipo & Co., he was called to the Nigerian Bar 1986. He received his LLM degree from the University of Lagos while in legal practice at Chief G.O Sodipo and Co and his Ph.D. in law from Queen Mary and Westfield College, University of London in 1995
He is a specialist in Intellectual Property, Technology, Communications and Allied Rights, especially in dealing with regulators on a wide variety of sectors. He has been involved in litigating and mediating contentious matters and advising on non-contentious cutting edge matters in many aspects of commercial law, in cases which have been resolved during or after trial. He has been involved in lobbying for, drafting and advising on laws, regulations and policies.
He has been involved in advising on foreign direct investments matters in various sectors of the economy for over three decades. This includes obtaining licenses and permits, privatizations, company re-organizations, Mergers & Acquisitions, Antitrust & Competition, Corporate Finance, Energy Regulatory, Oil & Gas, Environment, Land & Resources, Intellectual Property, Finance, Tax, Anti-corruption Advisory and Regulation, Takeovers and the like, in various sectors of the economy.
He is a regular contributor to leading international journals. He has also worked with leading firm of solicitors and at Barristers' chambers in London. He organizes and speaks at conferences in Nigeria and internationally; these include the Frankfurt Book Fair, the Copyright Society of America; the American Intellectual Property Law Association and the University of Maastricht.
He is a Professor, at the School of Law and security Studies, Babcock University, where he has served as a former Head of Department and Former Dean of Law. He has served as an Adjunct Research Fellow at Queen Mary, University of London, an Adjunct Research Fellow at the Intellectual Property Institute, Queen Mary & Westfield College,  A visiting guest lecturer at the Nigerian Law School, University College London and the Pan-Atlantic University (Lagos Business School) and a Consultant to the World Intellectual Property Organization.
He is the founding president of the Intellectual Property Law Association of Nigeria and the African Intellectual Property Group. He is the current president of the Nigerian International Franchise Association, (NIFA)
He has written several articles and a couple of books, one of which was published by Kluwer Law International, he is a frequent speaker locally and internationally. He and the firm have won several awards including Copyright Law Firm of the year in Nigeria Corporate INTL Legal Awards 2010, Commercial Law Firm of the year, Nigeria Lawyer monthly Legal Awards 2011, IP Law Firm of the year, Nigeria ACQ Global Awards 2012, Commercial Law Leading lawyer 100, Lawyer of the year 2012-2013 Who's Who of professionals and the Best Litigation and Arbitration Firm of the year.